Cyriakus, náš dobrovoľník v Albánsku, ukončil svoje vyslanie po 16 podnetných mesiacoch dobrovoľníctva v našej partnerskej ADRA Albánsko. Prečítajte si jeho autorské rozprávanie o misii a živote v Tirane.
"In October 2019, I joined ADRA Albania as a Program Assistant within the EU Aid Volunteers (EUAV) Initiative. In total, I stayed for 16 exciting and very special months. EUAV is a distinct initiative by the European Commission's department for overseas humanitarian aid and civil protection (DG ECHO). It brings together professionals and organizations from different countries, providing practical support to humanitarian aid projects. In doing so, it contributes to strengthening local capacity and resilience in disaster-affected communities.
The Training
My journey began a couple of months earlier, at the prestigious Scuola Superiore Sant'Anna in Pisa, where I received special training from the European Commission. Together with other professionals, I completed an extensive program, ranging from subjects like project management and international humanitarian law to psychological first aid and security awareness in fragile environments. Ever been kidnapped by an elite parachute brigade? I can cross that off my bucket list.
The Mission
For many years, my academic and practical work is focused on Southeastern Europe. Naturally, living and working in Albania has been a personal dream for a significant time. My arrival in the country went smoothly. With the support of my colleagues, I quickly integrated and familiarized myself with the local circumstances.
Active since 1993, ADRA Albania is one of the oldest aid and development organizations in Albania. Its fields of interventions include youth empowerment, environmental protection, social entrepreneurship, and employment promotion with education being a common denominator of all projects.
As is the case for many NGOs, funds are limited. With that in mind, my main task was to raise ADRA Albania's capacities and to provide my expertise in project writing, monitoring and evaluation as well as diversifying the organization's funding sources. Other tasks included PR-activities and facilitating the network processes with partners such as CSOs and embassies. As for the latter, one of my highlights was to represent ADRA Albania at the Western Balkan Civil Society Summit in Tirana. Through events like these, I managed to establish valuable contacts with organizations from all over the region, which will also add up to my future professional career.
I especially appreciated ADRA Albania's direct cooperation with the target groups, which are vulnerable people from poor households and returnees. Oftentimes, they belong to Roma- and Egyptian communities. In November 2019, a devastating 6,4-magnitude earthquake struck the country, costing the lives of dozens and injured hundreds. Fortunately, all my colleagues and friends were safe. ADRA Albania's target groups, however, found themselves in a crisis within a crisis.
To provide practical and unbureaucratic help, ADRA Albania immediately activated an emergency response. In doing so, we implemented a wide range of activities in the sectors of WASH, food security, shelter, and psychosocial support. Working in an emergency situation was a collective learning process for the staff. I am grateful for having been part of it, as it took place in a unique atmosphere of solidarity.
Subsequently, we entered the early recovery phase, in which we implemented rehabilitation projects and resumed our long-term projects, which had been put on hold for the time being. Due to the outbreak of the global pandemic, we were confronted with additional challenges. For instance, pupils with limited access to the internet dropped out of school, as they were not able to attend the e-learning courses provided. In this context, I contributed to design micro-projects aiming at the socio-economic reintegration of vulnerable groups.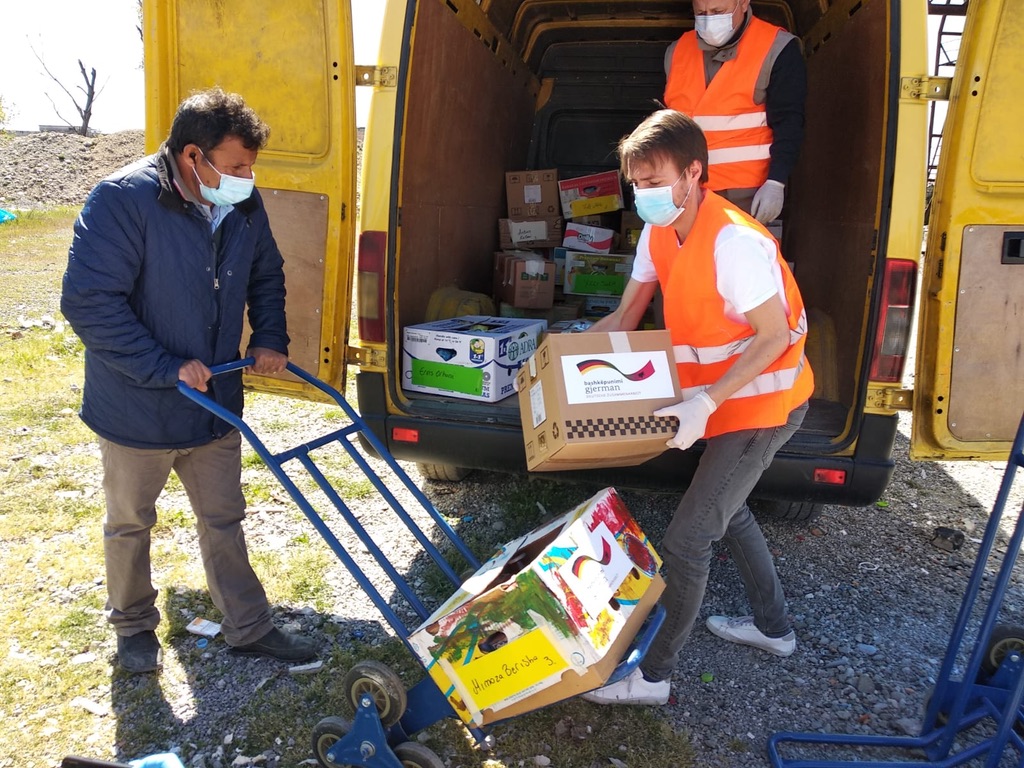 Against all the above-mentioned odds, I still had the time to discover the Albanian Alps and to dive into the Mediterranean sea. During my stay, I met many talented and inspirational people whom I am now fortunate to call my friends. I will never forget these very special 16 months and look forward to visiting the country many times in the years to come. For now, I say mirupafshim!"
"During my stay, I met many talented and inspirational people whom I am now fortunate to call my friends."
______________________________________________________________________________
Cyriakus svoj blog pôvodne zverejnil na platforme programu EU Aid Volunteers, v rámci ktorého bol do Albánska vyslaný ako dobrovoľník.